One of the most outstanding French artists of the last half of 19th century, Edgar Degas's sway lies in brilliantly infusing traditional academic components into contemporary themes of the 20th century.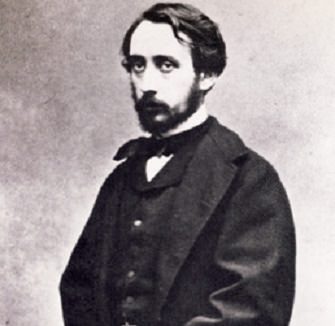 Degas mastered in portraying human figures and fleeting movements; a preference highly influenced by his rigorous academic training. Naturally, unusual postures of women, be it dancers, laundresses, singers attracted him, but he sought to employ lines as opposed to color and concentration to define contours. Further, he also opposed the plein air style used by most Impressionists and chose instead, to depict his figures in controlled light.  And, these significant deviations ultimately made him specifically dislike being labeled an "Impressionist" despite being one of its founder members. Degas also extensively experimented with a wide variety of media like pastel, gouache, and even distemper to go beyond the limitations of oil paint. Only when his eyesight deteriorated in his last years, he resorted to less difficult subjects using simpler techniques, poignantly noticeable in expressive forms and vivid colors.
Degas was severely criticised during a major portion of his lifetime for focusing his works mainly on women, and it was only towards the end of his career that his distinctive individuality and realism were highly esteemed. With over hundred of paintings, Degas is counted as one of the prominent figurative masters, who is credited for having influenced Pablo Picasso and Henri Matisse.
Biography of Edgar Degas in a Nutshell
| | |
| --- | --- |
| Full Name | Hilaire-Germain-Edgar De Gas |
| Birth | 19 July 1834; Paris, France |
| Nationality | French |
| Death | 27 September 1917; Paris, France |
| Mentors | Jean Auguste Dominique Ingres, Michelangelo, Raphael, Ticiano Vecellio, Edouard Manet, Eugene Delacroix |
| Inspirations | Jean Auguste Dominique Ingres |
| Periods | Impressionism, Realism |
Famous Degas Paintings and Artworks
1. Ballet Rehearsal on Stage
Completed in: 1874
Original title: Répéttition d'un ballet sur la scène
Style: Impressionism, Modern art
Genre: History painting
Measurements: 54.3 x 73 cm
Location: Musée d'Orsay
Medium: Oil on canvas
Degas was able to satiate his triggering inclination for both classical beauty as well as modern realism, precisely at the ballet – a world of white and pink that served as the foundation for aspiring ballerinas from the city's poorest corners to fittingly dominate the stage. Consequently, he visited the classrooms and wings of the fabulous Palais Garnier that housed the Paris Opéra and its ballet. Observing his subjects while they were rehearsing or at rest, he gained new techniques for portraying them from innumerable angles and positions. In this particular painting, for instance, his ingenuity lies in effectively mirroring the contrast of expressions and gestures between the rehearsing dancers and those waiting.
2. The Ballet Class
Completed in: 1874
Original title: La Classe de Danse
Style: Impressionism
Genre: Genre painting
Measurements: 75 x 85 cm
Location: Musée d'Orsay, Paris, France
Medium: Oil on canvas
Brilliantly capturing a scene post a rigorous ballet training, this masterpiece stresses on how the pupils being exhausted, stretch or twist their backs, adjust their hair or clothing, etc. In the process, they give little attention to their teacher, who maintains an inflexible position and is in the midst of beating his time on the floor with a baton. Apart from such an authentic rendition of spontaneous gestures, this picture is noteworthy also for enhancing the vanishing perspective of the floorboards through a slightly raised viewpoint.
3. The Green Dancer
Completed in: 1879
Original title: Danseuses basculant (Danseuses vertes)
Style: Impressionism
Genre: Genre painting
Measurements: 36 x 66 cm
Location: Thyssen-Bornemisza Museum, Madrid, Spain
Medium: Pastel
This painting involves a group of dancers mid-performance, with one executing a complicated turn, shown in full length. The other orange dressed ballerinas rendered cropped are reminiscent of Dega's influence of photography and Japanese prints. The passing movement arrested in vigorous pastel strokes, underline his belief of conveying reality's transitory nature employing a fragmented technique.
4. Blue Dancers
Completed in: c.1899
Style: Impressionism
Genre: Genre painting
Measurements: 67 x 67 cm
Location: Pushkin Museum, Moscow, Russia
Medium: Pastel
A riot of warm blue hues, this painting marks a transition from grave grays to brilliant reds, russets, and blues that the artist introduced in his style around 1800. Colors now dominated his canvas, and the varied movements of dancers simply seemed to glorify their essence. Such an inclusion came with his insistence to use pastels as his dominant medium since it enabled him to paint while drawing.
5. Two Dancers in Yellow and Pink
Completed in: c.1910
Style: Impressionism
Genre: Genre painting
Measurements: 106 x 108 cm
Location: Musée d'Orsay, Paris, France
Medium: Pastel
Two dancers are shown exhausted seated on a bench. Their subsequent movements, rubbing their ankles, one collapsing her head on a hand while another remaining out of sight, again emphasize Degas's deliberate urge to outline scenes of working life, his mastery of portraying subtle expressions through skilfully employing his dominant medium, pastel colors.  Significantly, pastel color also aided him to infuse variations to the same scene.
6. Two Dancers on Stage
Completed in: 1877
Original title: Deux danseuses en scène
Style: Impressionism
Genre: Genre painting
Measurements: 46 x 62 cm
Location: Courtauld Gallery, London, UK
Medium: Oil on canvas
One gets the impression of seeing the two ballerinas of this piece as if from a box beside the stage.  Interestingly, there is another figure, who is partially visible, being at the far left end of the stage. The inability of a viewer to fully make out their expressions and actions makes the work a specimen of modern trends, while the muted colors, chiefly bursts of pink and yellow, candidly uplift the artist's essential distance from the Impressionists of his day.
7. The Tub
Completed in: 1886
Original title: Le Tub
Style: Impressionism
Genre: Nude painting
Measurements: 70 x 70 cm
Location: Hill-Stead Museum, Farmington, CT, US
Medium: Pastel
Belonging to a series of seven pictures of the mid-1880's, this pastel work concerns a woman in her toilette. But unlike contemporary persistence on beauty and graceful movements, Degas's woman remaining involved in her activity, is caught unaware. She does not seem to recognize the viewer's presence and it's her natural disposition that gains attraction. Showcased at the eighth Impressionist exhibition in 1886, it also draws attention to her lower class origin by dint of a shallow tub and her red hair.
8. The Absinthe Drinker
Completed in: 1876
Original Title: Au Café (l'Absinthe)
Style: Impressionism
Genre: Genre painting
Measurements: 68 x 92 cm
Location: Musée d'Orsay, Paris, France
Medium: Oil on canvas
The picture shows two figures sitting at a cafe called Café de la Nouvelle-Athenes, in Paris with two glasses in front, one containing a greenish liquid suggesting absinthe, while the other is filled with a brown colored drink, probably mazagran. Amidst the two figures, one is of Ellen Andree, a noted French Actress, who is seen staring with heavy eyes into space, while the other,  Marcellin Desboutin, a bohemian artist, is seen smoking a pipe. Both of their expressions, brought out in muted shades of gray and earthy tones, signal hopelessness and build up an air of melancholy. The painting was specifically criticized when it was first exhibited in 1872, and the female figure was wholly derided as a whore.
9. Portrait of Mary Cassatt
Completed in: 1884
Style: Impressionism
Genre: Portrait
Measurements: 74 × 60 cm
Location: National Portrait Gallery, Washington DC
Medium: Oil on canvas
This portrait of American impressionist Mary Cassatt, showing her holding photographs, celebrates the friendship that Degas shared with her. Mary Cassatt highly looked up to Degas's work for inspiration and also for breaking away from stifling traditions. In fact, she viewed her exposure to his techniques as a "turning point in my artistic life".
10. A Cotton Office in New Orleans
Completed in: 1873
Style: Impressionism
Genre: Genre painting
Measurements: 92 x 73 cm
Location: Musee des Beaux-Arts de Pau, Pau, France
Medium: Oil on canvas
This oil painting recalls a particular incident of 1872. It ensues with Degas's visiting his uncle, Michel Musson in New Orleans, with his brother, Rene in that year. In 1873, his departure to France gets delayed, and unable to travel, he resolves upon painting and selling his works to a British textile merchant. But the cotton business faces a massive economic crash and forces Degas to exhibit his piece at the Impressionist Exhibition in Paris in 1876. The work, purchased by the Museum of Fine Arts, shows how Musson examines the quality of raw cotton, while Rene goes through "The Daily Picayune" carrying news on bankruptcy. This very first painting of Degas to be purchased by a museum, it helped him to secure himself as a stable artist.
11. After the Bath, Woman Drying Herself
Completed in: 1892
Original title: Après le bain, femme s'essuyant
Style: Impressionism
Genre: Nude painting
Measurements: 98.4 x 103.8 cm
Location: National Gallery, London, England
Medium: Pastel
Resonant colors and textures used in creating this artwork of the bathing series sets it apart significantly from Degas's earlier works. Further, the typical posture of the leading woman, with her arms raised endows it with masculinity and aggressiveness. Herein too, Degas succeeds in rendering the woman completely unsuspecting of her immediate surroundings.
12. A Woman Ironing
Completed in: 1884
Style: Impressionism
Genre: Genre painting
Measurements: 54.3 x 39.4 cm
Location: Musee d'Orsay, Paris
Medium: Oil and pastel
The repeated movements of laundresses intrigued Degas as much as the leisurely habits of dancers, and this work, delicately reproducing the ironer's body as she bends to do her work against a backdrop of hanging garments admirably echoes the fact. In spite of being asked to rework on it by singer and collector Jean-Baptiste Faure, Degas kept it and when he lent it to the 1876 Impressionist exhibition, he was highly praised for this "rapidly done silhouettes of laundresses".
13. Self Portrait
Completed in: 1885
Style: Impressionism
Genre: Self-portrait
Measurements: 40.6X34.3 cm
Location: Musée d'Orsay, Paris, France
Medium: Oil on canvas
One amidst forty self-portraits, drawn in various media, it is reminiscent of a period, when the young artist, having left his training at the École des Beaux-Arts had volunteered for an extended journey in Italy. It showcases his consciousness of the self-portraiture of Rembrandt, Ingres, and Delacroix.
14. Place de la Concorde
Completed in: 1876
Style: Impressionism
Genre: Genre painting
Measurements: 78.4 cm × 117.5 cm
Location: Hermitage Museum
Medium: Oil on canvas
Also titled Viscount Lepic and his Daughters Crossing the Place de la Concorde, this painting seems to convey two different perspectives. On the one hand, it portrays the French artist and archaeologist, Vicomte Ludovic-Napoléon Lepic, who smokes a cigar and is accompanied by his two daughters and dog. They are seen crossing the square with the Tuileries Gardens in the background, behind a stone wall. There's also a solitary man, (possibly writer Daniel Haveley), on the left. The presence of a large amount of space around the figures along with random has led considerable art historians to believe it to have been majorly influenced by photography.
15. L'Étoile (The Star)
Completed in: 1878
Original title: L'Étoile
Style: Impressionism
Genre: Genre painting
Measurements: 
Location: Musée d'Orsay, Paris
Medium: pastel and others
A ballerina shines up an empty stage with her solo dance. Gracefully balancing herself on one leg, she is captured at the precise moment of delivering a majestic pose with her head bent back, and her eyes closed in jubilation. Her rosy cheeks reflect the utter satisfaction of her performance. Also entitled "The Star", this artwork demonstrates his employment of mixed media to achieve perfection.
Besides these, there are other significant paintings of Degas that are widely popular, such as "The Entrance to the Masked Dancers", "Dancers, Pink and Green", "Dancer Resting", "The Millinery Shop", "Musicians in the Orchestra", "Waiting". And the famous sculpture, "Little Dancer of Fourteen Years" deserves a special mention as well.