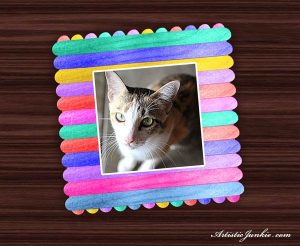 Popsicle sticks are one of those things that can be used to make hundreds of different creative and useful things; and here we are making something we all have made as kids – popsicle stick picture frames! Now, who doesn't love to recycle those ice candy sticks to turn them into artistic masterpieces? It's time to make some pretty frames for your favorite photos.
Things You'll Need
Popsicle sticks – the numbers depend on the design you are planning to make; here, I will be using four 4.5 inches long sticks for a simple design
Craft glue
Water colors
A paint brush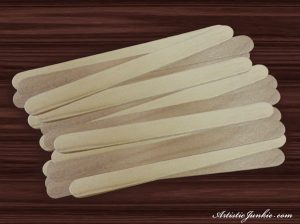 These are the basic materials required for the craft. For coloring and decorating the finished frame, you can use:
Some glitter glue
Colorful buttons
Rhinestones
Small lace ornaments like flowers and butterflies
How to Make Your Popsicle Stick Picture Frame
Place two sticks parallel to each other, but 4 inches apart, for two opposite sides of your frame. (the distance may be more or less if your popsicle sticks are longer or shorter than 4.5 inches)
Now, apply some glue on the right end of both the popsicle sticks.
Next, take another stick and place it on the glued end, in a manner to join the two sticks underneath. This will be the third side of your frame, joining the other two sides.
Now, do the same for joining the left side of your photo frame, with another popsicle stick.
You can also put two more sticks over the ones used for the left and right sides, and attach them on top of the upper and lower sides with glue to make the frame a little more sturdy (as you can see in the above picture).
Once the glue is dry, you can paint the frame with your favorite shade using acrylic colors. Let the paint dry and your frame is ready for a picture. You might need to cut the photograph a little, so it fits the frame, or you may just put the frame over the photo and glue it in place in a stylish angle. It is better to wrap the picture in a clear, waterproof cellophane sheet before framing it.
So, this is the simplest form of a photo frame made with popsicle sticks. You can see two more ideas in the picture below where two sticks have been used for each side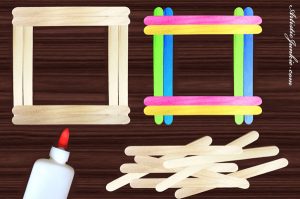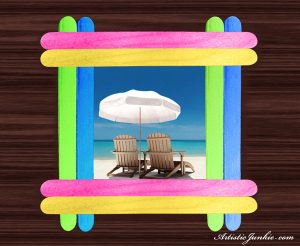 Attach a stand made out of a few more popsicle sticks for a standing photo frame. That is my grandma's dog Whoopee, relaxing after her morning 'jog'.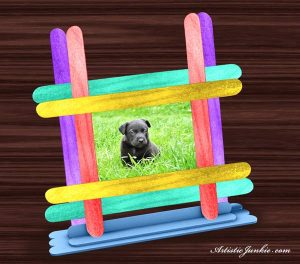 Here are a few more ideas. I have used some red fabric flower buttons from an old dress on the diamond shaped frame while the others are simply painted to match the photo I was planning to frame in them.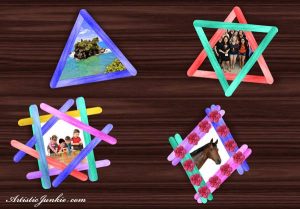 See how nice the plastic butterflies are looking on the frame! I also pasted two strips of a floral patterned paper for a more ornate look.
Lastly, I experimented with a triple picture frame, and it turned out pretty nice. This was my sister's idea and we put some of my niece's drawings in the frames.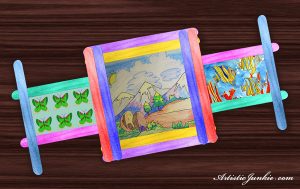 There are plenty more ways to make cool frames out of popsicle sticks. Join four sticks to shape them like a flower or a simple snowflake, and put a picture at the center. Or you can Stick some buttons and beads for a chunkier design. Another idea is to skip the paint altogether, so your frame has a rustic, wooden look. Go ahead and try something new, and I would love it if you can share your creations with us.